NHL 22 (PS5) Review: DualSense everything!
Don't you worry, NHL is back and this time around we are promised an even better game than the year before (might have heard that earlier?). New for this year's edition is that we've taken the step over to the Frostbite engine, thus enabled next gen gaming. So let's find out which impact that have had on the game.
Graphics
I have played NHL 22 on the Playstation 5, and it looks very nice. Maybe no world-shaking difference from NHL 21, but especially the stadiums and the ice shine like never before, with its new lighting effects and glossy ice. The player models have also been significantly improved, with each digital athlete resembling their real-life counterparts in a better way than before. The expressionless faces with moving mouths are still here in some cases, but in my opinion it's better than before. In fact, super star Auston Matthews has made the transition into the game spectacularly with his signature mustache intact.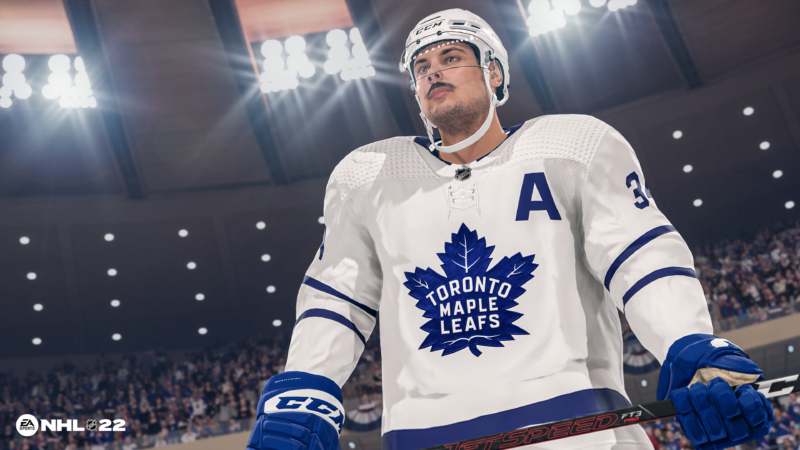 However, it's far from all players who have received the same consistent beauty boost as Matthews. You'll notice that most players look better than before, however some of the smaller leagues and their players have (perhaps for obvious reasons) not as markedly better looks.
Last but not least, I would also like to highlight the fact that the sticks move more naturally in relation to other players, than before, which I also assume is thanks to the opportunities Frostbite provides. In previous editions, the stick has behaved a bit as it wanted and all too often it has gone straight through other players and objects. Now, sticks move around players or collide with them as you expect it to do in real life.
Gameplay
First of all I have admit something. Despite spending many hours on last year's edition of the NHL game franchise, I never fully understood how the tile based menu system and navigation worked. I had a hard time navigating through the menus every time I played the game and it always took longer to do what I wanted, than it should to take. In NHL 22 we get a menu system that as a whole looks much better visually and feels far easier to navigate through than the previous version. But even though it's an improvement, it doesn't necessarily mean that it's entirely fixed. Bring back the intuitive menus from like… NHL 06 please.
Apart from the slightly easier menu navigation and the switch to the Frostbite engine, the list of new features in NHL 22 is actually rather slim. The biggest gameplay change is the introduction of X-Factor abilities, brought over from the Madden NFL series. These X-Factors function like activated abilities for many of the best players in the league, but honestly, it doesn't feel too impactful on the experience. While the abilities aren't quite as noticeable on full team controll modes, they do feel more significant when you play locked as a single player in modes like Be a Pro or when you use your skater in World of CHEL.
However, I'm not overly impressed with the addition of X-Factor abilities, mostly because it's so easy to forget which players have which ability. If you don't know which ability the player you are currently controlling has, it's difficult to make full use of it. Players with one of these super abilities have an icon above their heads, but for those of us who are… absent-minded, it doesn't always help.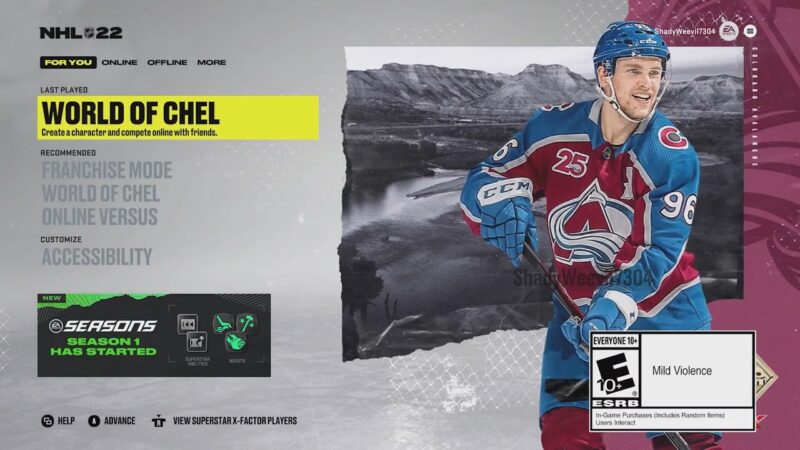 Game Modes
The game modes feel largely unchanged and though they should still provide fun for the user, there isn't a whole lot new to write regarding them. HUT is here, Be A Pro and World of Chel.
I guess I should mention that once again missing from the NHL franchise is a single-player, story-based game mode similar to those presented in Madden NFL and FIFA. This has been something fans of the series have asked for in the past but to no avail, unfortunately.
DualSense (Playstation 5)
For me, what really enhances the experience for the latest generation version of NHL is the new way EA has chosen to use the DualSense (which for obvious reasons can only be experienced on the PlayStation 5). In fact, of all the EA Sports titles so far, NHL 22 is what get the most out of the DualSense. You feel your player skating as the rumble will glide up and down the controller. Hits really makes the controller shake and can be felt like never before, while passing with the Adaptive Triggers is restrictive based on fatigue, meaning it's heavier to press the triggers when your player is tired. And what I like the most is that you can hear coaches calling for line changes and other commands via DualSense's inbuilt speaker. This is how to bring sport games into next gen gaming – good job EA!
For the next year's version of the NHL, I hope (and believe) that EA has managed to experiment even more with DualSense and how you can use all of its features. Why not let us shoot with the Adaptive Triggers and feel there as well, how the players' stamina affects the power of the shots? And feel free to further develop the comments you hear in the speaker even more, as I really think they add another dimension to the game.
Verdict
I have heard many people complain that the NHL series has stopped developing and that too little news is introduced in each new version. But I actually think NHL 22 on PS5 is a step in the right direction.
So, should you get it? I'm gona make it easy for you. If you're new to hockey games, this is a superb starting point. If you're on last gen consoles and looking for a much different experience to what you had in NHL 21, you're not getting it with this. But if you've got a PS5 however, you're up for a next gen experience for sure.
Score: 8/10
NHL 22 is available on Playstation 5, Xbox Series S/X, Playstation 4 and Xbox One. I reviewed the game on Playstation 5 with a code provided by the publisher.