Ducky One 3 Review: Very Comfortable Keyboard but Lacks Features
Ducky is widely renowned for its versatility, and it's certainly evident in the Ducky One 3 keyboard. From the impressive hot-swap feature (meaning you can easily replace the switches) to the multiple layers of key padding aimed at reducing typing noise, this keyboard has a lot to offer. However, what truly sets Ducky apart is its reputation for durability, thanks to its robust construction, including dual layers of PCB – a feature that is prominently present in the Ducky One 3.
It's worth noting that the keyboard is also available in various aesthetic designs, such as the 'Horizon' model that was sent to me for review. This variety allows users to have more choices when it comes to their preferred style. The idea of making the computer experience feel more personalized to your liking is a recurring theme here. But, of course, there's so much more to it than that.
Design
Regarding this 'Horizon' model specifically, with its robust baseplate and restrained aesthetics, I can't help but admire its design. In this case, a blend of dark blue, black, and orange strokes of color comes together in an original manner, giving it a truly unique appearance. This is further complemented by its incredibly sturdy construction. The keyboard, weighing over one and a half kilograms, remains remarkably stable on any surface, and its weight adds an extra layer of durability. In terms of design, it's somewhat of a traditional story, with only four additional dedicated keys in the top-right corner that stand out. Despite this, the keyboard is slightly more streamlined than many others. These dedicated extra keys serve as shortcuts to sound settings and even a calculator. It's minimal but sufficient!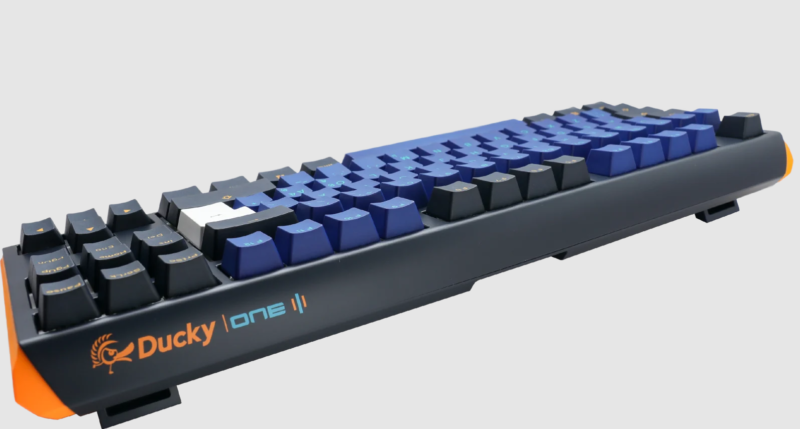 The Ducky One 3 is an incredibly comfortable keyboard for typing and gaming, but unfortunately, it lacks some "common" features to really justify its high price tag. (Image credit: Ducky)
Overall, I genuinely appreciate the aesthetics, and the slightly elevated key profile provides a traditional yet enjoyable typing experience. The construction itself frames the keyboard nicely, and with three available keyboard angles – where you can adjust its feet to three different inclinations – it offers even more adaptability and, consequently, comfort. The only thing I wish were different is that the letters/icons on the keys were transparent and allowed light to shine through, which, unfortunately, they do not.
Media keys & Lighting
The keyboard lacks dedicated media keys or volume control (it is a TKL keyboard, after all), but, of course, there is the option to create macros. These can be accessed by combining the FN key with any of the alphabetical and numerical keys. This process occurs directly on the keyboard without the need for any software.
In a similar fashion, you can also switch between pre-defined lighting profiles for those who like to spice up their RGB game. The keyboard offers a variety of different color patterns, but due to its construction, the lighting is never overly intrusive. And speaking of lighting, as I mentioned earlier, the keyboard is backlit, which means the light emanates from beneath the keys but does not shine through them. Consequently, the key labels may still be relatively challenging to read in a dark room with the backlight on, depending on the keycap color. In the case of the 'Horizon' model, it works decently, but it's definitely something to consider if you're accustomed to illuminated key labels.
Verdict
The standout feature of the Ducky One 3 Horizon is the comfort provided by its soft yet decisive switches, along with the increased level of quietness it offers compared to other keyboards with similar switches. The board exudes quality throughout, and thanks to its built-in memory, you can carry your macros or preset profiles with you wherever you take the keyboard. The price, slightly above 2000 SEK ($199 USD), is on the steeper side and contrasts with the absence of bells and whistles, especially the absence of a USB port, which I would have preferred.
Ducky One 3 also lacks dedicated software, and the lack of top-side backlighting is noticeable, but purely from a quality perspective, this is a fantastic keyboard that is sure to last for many years for those who do decide to invest in one. It may not be for everyone, but for those seeking a high level of comfort and durability, it can hardly get any better!